I managed 44 strands during the month of February on Mathilde Duforest. She is coming along nicely! Here she is at the start of February: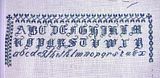 And here she is after February Daily Strand Stitching: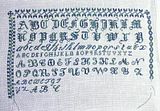 I hope to make Mathilde my March finish.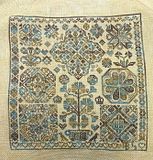 My finish in February is a piece started in the Sticklounge Group. It is Petit Sampler by Claire Findley, stitched with Waterlilies Kelp on 36 ct Butterscotch Cookie by Sassy's Fabbys over one. This lovely little piece was lost in my "need to finish" drawer for months until I found her a couple of weeks ago and completed her by stitching about 15 minutes every morning before work while my four year old ate breakfast. I have decided this worked out so well that I will be working on RMT this way for a while to see how far along I can get- I consider it my AM Daily Strand piece, while Mathilde Duforest is my PM Daily Strand piece.