Wow, it has been a while since my last post!! I have been diligently stitching on many different things. My favorite of the moment is SL Spot Motif Sampler. I have completed the outline along the top of the pattern and am now going backwards filling it in. Such a relaxing stitch over one tented on 40 ct. Having the outlining done makes it much more enjoyable.





I have also finished outlining the first panel of my SL Polly Phillip sampler. The colors in this one are so bright and beautiful- what a pleasure to stitch her!




I have also been working on my last few Sticklounge pieces. Unfortunately the group is going to fold at the end of June. I have mixed feelings about this- I can't seem to stop joining in the SALs, but it puts me so behind on everything else. Having deadlines is always a good thing, though, because it helps me have finishes! My much needed UFOs over the years will start to see the light of day after the group is final.

Tulip Praise by Gracewood Stitches. I have completely changed the called for colors and opted for blues and greys. There is still some frogging to do in that top band- I'm changing out the grey (HDF Smoke and Mirrors) for the blue grey color (HDF Dragon Toes).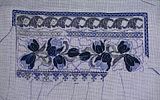 This is Herz Yin Yang by Jean Louis Grandsire. It is being stitched with HDF Green Dragon Droppings and Purple Dragon Droppings (both custom colors). I may put and identical heart just below it with the colors opposite. It is over one on 32 ct and quite small for framing, but another heart would be about right.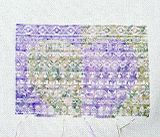 I have finally finished my Odds and Ends Sampler from Tam's Creations. This photo is not the best, but I have decided the colors just can't be captured. There are a little over 90 WIPs/UFOs/Finished pieces represented in this piece!!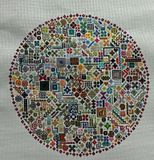 Thank you for looking!! I will try to remember to keep up more frequently!!