The Good: I have finely been able to pay attention to my beloved SL Rebecca Cullin. I absolutely love this piece. I have been concentrating on the bottom and trying to fill in the massive amount of stitching in the border. After all my recent stem stitching with Ring in the New, I couldn't resist outlining the tree. The trunk will be filled with stem stitch and the branches are supposed to be straight stitch. I have been spending a lot of time on Mary Corbet's site trying to decide which stitch I wanted for the leaves. After rejecting the straight stitch and fly stitch, I decided to go with the fern stitch. I think it makes cute little leaves! I am using HDF Old Maid of the Forest in Premium. The trunk is an old dye lot of OMotF in SSR and darker, so it will make a nice trunk. I am using the chart/ stitched model/ and original Rebecca Cullin to decide how to stitch this cute little tree.




The Bad: I began looking closer at the work I have already done at the top of the embroidery... the stem stitching is dreadful!! It seems like such a simple stitch, but if you don't follow the rules, it can get very sloppy. I didn't realize there were rules when I first stitched that part. Thank you Mary Corbet!! Now I really must redo the stem stitch vine. I decided to go with premium there as well. You can see from the photos the beginning (on the left) that is redone is much nicer than the rest... I do not mind to frog the vine because it will be much prettier. I may restitch the leaves as well, but the flowers will stay.




Look at the lighter green vine in the center connecting the leaves- yes, that is supposed to be stem stitch!! Yuck!! That will get a definite do-over as well, but I have to order more premium floss first.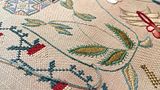 I will take a photo of the entire piece later this week after I have more completed. There are so many threads sticking out here and there that it looks like a real mess!!