I am very happy to join all the stitchers in this Scarlet Letter year. Will this be the year I finally finish Rebecca Cullin? Probably not. I started her in 2005 and put a few stitches in every year. Then I get sidetracked. This year I will probably be sidetracked by starting even more SL projects. In fact, I started Spot Motif circa 1640 on December 1st just to celebrate this wonderful group!!
Here are the SL pieces I would like to focus on this year that are already started:
Rebecca Cullin 1801. I am not thrilled with the bird in the center and have already recharted it using a picture from the original sampler that I found online. Obviously I made a lot of changes in the top as well to add my initials and start year. I probably would not have done that if I were just starting, but what's done is done.


My work so far-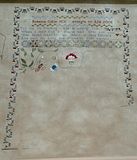 Polly Phillip 1792. I love the colors in this one, but admit my sister's name is Holly Phillips so I was drawn to it :)


And my newest Scarlet Letter start- Spot Motif circa 1640. This one is tent/continental stitched over one on 40 ct. Very fun!! I think I will work on outlining for the most part and filling in little bits as I go.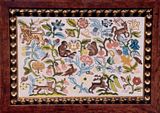 I have many more SL samplers in various stages- some kitted, some slightly started. If I could finish Rebecca Cullin it would really be a Red Letter Year for me!!!