Wow, it's been forever since my last post!! I usually blog by phone, but the recent upgrade on photobucket has made it quite a hassle to get pictures in the correct size/ clickable/ etc by phone. Hopefully I'll work out the glitches soon. I dragged out the laptop for this update. I have been focusing on Sticklounge stitching this past month. I finished my little Berlin Work Sampler. It is such a charming little piece. It is over one on 38 ct Gander Linen. I highly recommend this fabric!! No slubs, nice and even, easy to see... what's not to like??


I have also completed up to part 24 of Flower Power. I think I will add some color to the moon behind her, but am not decided on what to add- pink, gold, blue??


Window has gotten some much needed attention this past week. Mainly frogging of the blue green color. I completed part 7, and I think I will add dark purple (Old Maid of the Vineyard) for the flower. It is not fun to frog over one on 40 ct, but I have done it so much on this piece that it seems natural :)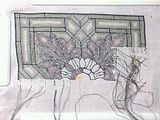 My Tribute to Ackworth is stitched over 2 on 40 ct Prairie Grass using Moon Called Sea. My three year old picked out the floss for this one- right now green is his favorite color. He calls this one his cross stitch.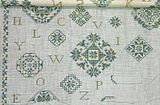 Many Years Ago part four- I really need to get this little piece done. The deadline is fast approaching!


Now I will try to get the sidebar updated and hopefully stay on track a little better.