I finally had another piece framed. With the birth of my son 4 years ago, I have really cut down on having pieces framed due to cost. Who new a child could be so expensive? Anyway, I do always have my things framed using the non glare conservation glass- this adds greatly to the price. On a whim a couple of years ago I took a small piece that I liked (but wouldn't have been devastated if it was ruined) to Michael's with my 50% coupon in hand. I was very nervous because of all the horror stories out there. It was Garden Angel by La-d-Da and turned out great!! I chose their "Masterpiece" glass. Absolutely wonderful. The framing was nice and straight, and the glass was divine.




So this piece was placed on the wall amid a lot of other pieces with the normal conservation, non-glare glass and just looked "cleaner." I don't know, I thought it was my imagination because it was new. But after two years, it still looks like there is no glass at all- the Materpiece glass is truly wonderful. Unfortunately, they will not cut a piece and sell it, so the only way I can get it is to have something framed completely. Therefore, when it came to framing my Tribute to Ackworth, I held my breath and went back to Michael's. I talked extensively with the lady that framed it about the acid free board, no sticky material at all, no rust pins, etc.... My fabric was a little "wonky" so I was unsure what would happen. It actually turned out great!! The frame is perfect, the Masterpiece glass is exquisite, and with the 60% + $10 off coupon, the cost went from over $300 to $125. I am thrilled with the results!!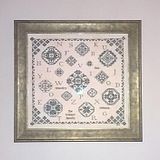 Now I have no idea what I will do when "And They Sinned" is ready. I'm still afraid to take it to Michael's, but I am so happy with both pieces they have done. Decisions, decisions....