I have completed two of my Half year HAED Goals so far and wanted to share them. The first is QS Napping Hat by Molly Harrison. I finished the top row of pages. She is one over one on 28 ct monaco with DMC.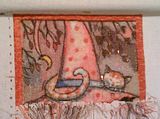 The next finished goal is Midnight Orchard by Ian Daniels. This is a retired chart and very pretty. She is one over one on 25 ct lugana converted to HDF silks. The top row of pages are now finished.
I have four goals left and have already started working on QS Red Poppy.